Perhaps the biggest challenge of solventless extraction is finding strains that wash well. And by wash well we mean cultivars that yield well for solventless extraction methods like bubble hash. If you are not familiar with the term solventless review this article first – what is solventless?
Well known hash maker Nikka T recently wrote and well though out article in SKUNK magazine titled "What Makes a Washer?". He considers 3% yield on fresh frozen to be a typical break even point. He is from the west coast but even on the east coast I have found this to be an accurate estimate as of 2022 market conditions.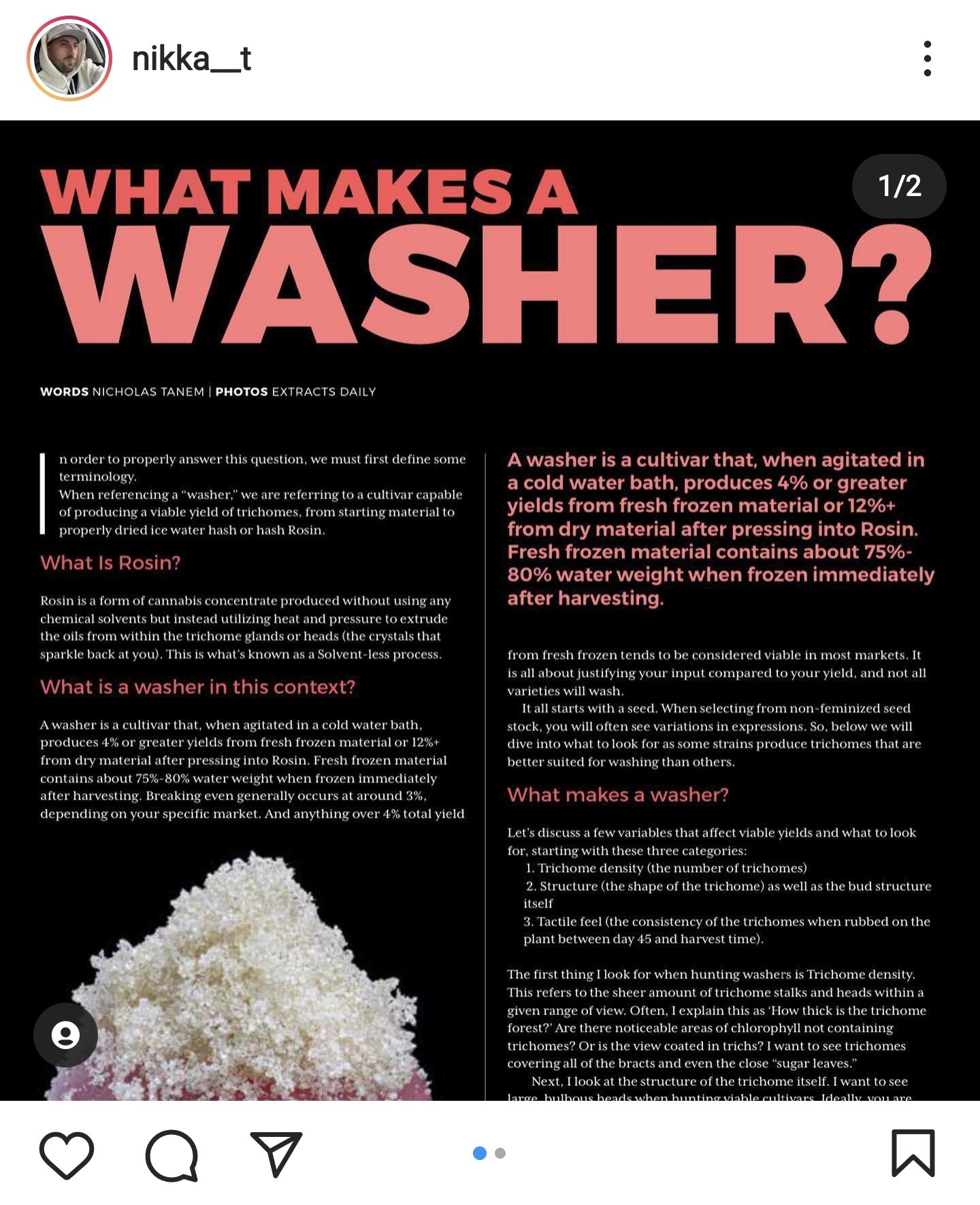 He discusses three main variables for yield:
Trichome density & number of trichomes
Structure (shape of the trichomes as well as bud structure)
Tactile feel and consistency of the trichomes when rubbed on the plant between day 45 and harvest time
I would add this incredibly important variable:
4. Light conditions (indoor vs outdoor, sun grown flowers are known to have higher terpene content)
For me the standout quote in the article is:
Now, if you have dense trichome growth, a perfect trichome structure for washing with a weak-neck trait and large, bulbous thin, waxy cuticle head, AND you feel gritty sand-like consistency, you have found a washer!

Nikka T
That is a loaded paragraph to deconstruct:
Weak-neck trait – refers to trichomes that have a small connection between the stock and the head
Bulbous thin, waxy cuticle – this describes the 'shell' of the trichome head. You want a thin head to decrease overall wax content in the hash. This is particularly important when making rosin carts.
Gritty sand-like consistency – I completely agree with this sentiment. "Sand-like" hash is so much easier to work with than "greasy" feeling hash. Greasy hash tends to smear and clog your extraction bags, unlike sandy hash which comes off clean.
Once you have found some washers, you just need to assemble a menu of flavours. Make sure you have at least one good "gas" strain and a "fruit" profile in your rotation at all times.
Which Strains Work Well for Solventless Extraction?
There are phenotype specific differences that will influence yield, but overall there are certain trends when it comes to washing. This is not an exhaustive list but a good starting point.
Strains that Wash:
GMO (Mamiko Seeds)

Selected by skunkmasterflex this is an all time strain when it comes to vigor, yield per square foot and hash yield. This strain is an outlier unlike any other. With a lineage tracing back to skunkmasters love for Larry OG this strain actually washes well, unlike most OG lineages. The smell is dank and gassy with yields up to 7-8% from wpff

Face Off OG (Archive cut)
Papaya (nirvana Seeds)
Chemdog (Top Dawg Seeds)
Meat Breath & Meat Madness (Thug Pug)

One of my personal favourites for a daily driver. Great yield, sandy heads and a profile you don't get tired of.

Strawberry Banana, 90 Micron, Melted Strawberries, Grape Cream Cake, Strawberry Guava S1 (Bloom Seed Co.)

Bloom Seed Co. Does an amazing job at breeding for solventless. The above are all strains I have had put out over 5% on wpff

Sour Trop Bx1, Papaya Sorbet, Strawpicanna, Tropicanna Cookies by (Oni Seed Co)

Oni Noodles is another breeder that breedes specifically for solventless strains. If you follow his instragram and see that hash rosin donuts he smokes on the daily- you will understand why he needs strains that kick ass for solventless.

H.R.E.A.M "Strawberry Guava" Strawberry Banana X Papaya X Wilson F2 – (Masonic Seed Co)

Masonic – also known as Instagram's most hated and creator of Wilson and Frutas puts out some fire solventless genetics. Follow his IG if you don't already, he is currently on v3 and is constantly being banned thanks to IG censorship so this link may not work. @masonic_smoker3.0

Georgia Pie – (Seedjunky Genetics @seedjunky_jbeezy) – many other seedjunky genetics wash well
Kaya's Koffe (@pacificnwroots_)

Ras Kaya is an OG when it comes to breeding for resistant outdoor varieties that yield well w/ solventless. All of his varieties do well for hash and great outdoors. Although bred for growing in Washington state they do great in colder climates such as Ontario, Canada as well.

Crescendo RBX1 – Ethos Genetics

My favourite outdoor hash strain for southern Ontario. Incredibly resistant to powdery mildew and pests, robust vigor and great hash yields make this a top pick. This is the strain I take cuts of in the spring for friends who are new to growing. It is almost fail proof, and put in anyone's hands can get me a product I can turn into a good hash for them come the fall. Great fruity terp profile and sandy hash that is easy to work with.

Where's my bike? (Karma Genetics)

For lovers of Sativa and Haze this is a fantastic strain to run. Great yields and a terpinolene terpene profile that haze lovers will love. Flower time is on the longer side so not ideal for outdoor growers with condensed growing climates.
Strains that Typically Don't Wash
Many OG varieties
Pink Kush
Bubba
Girl Scout Cookies
Rockstar
Many old school Kush varieties
Blue Dream
The Jar Test
The jar test is a great way to approximate solventless yield without having to wash a large amount of material ($$$). Simply put 20-40 g fresh frozen material in a jar with ice and water. Shake it up like crazy for 5 min and allow the trichomes to settle to the bottom. Over time you will get a feel for what a good yield looks like, but for starters you should have at minimum a heaping teaspoon's worth of trichomes at the bottom of the jar. Below are some mids that had pretty awful yields.